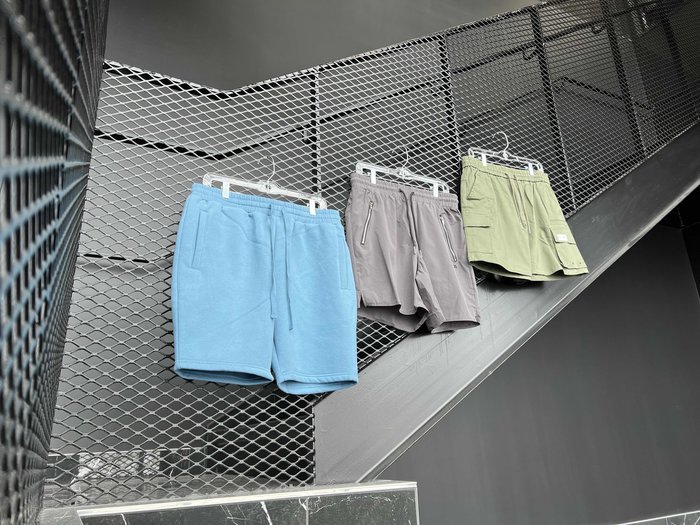 You've made it to Summertime – Finally! Picture yourself waking up to a clear blue sky, a not-too-humid warm sunny day. You might want to have lunch on a patio or sunbathe at the back of your house. Turns out we have exactly what's missing from this scenario: the perfect pair of shorts!
To help you choose the perfect shorts for any particular need, we created this Short guide. (Get it?)
Lightweight
Composition : 90% nylon / 10% spandex
Our lightweight shorts are the go-to for any outside activity this Summer. Whether you like a more classic look with a solid colour, or you prefer the cargo style with pockets to store your sunglasses, sunscreen, and other goodies, we got it.
With a mesh on the inside, our shorts make excellent swimwears. The fabric is lightweight and dries super fast. Very durable and resistant to cuts and scratches.
---
| | |
| --- | --- |
|   | Hoffa Shorts |
|   | Soldier Short |
|   | Cargo Zip Short |
|   | Vintage Boardshort |
---
Casual
Composition : 97% cotton / 3% spandex
Next up, we have our casual shorts. The chino fabric is one of the softest we have as it is mainly made with cotton. Offered in three colours, our chino shorts are durable and comfortable. You will like to wear them in a more casual/chic setting as the overall look is clean, with a subtle label on the front pocket.
---
| | |
| --- | --- |
| | Chino Short |
---
Comfy
Composition : 50% cotton / 50% polyester
Last, but not least, our comfy shorts won't disappoint. They are your go-to loungewear, but also everyday shorts. They are warm enough to let you enjoy the chilly Summer nights and so soft that you won't need to switch to your pj's. They truly are the perfect shorts for a more laid-back vibe.
---
| | |
| --- | --- |
|   | Vintage French Short |
| | Deux Mille Dix Short |
---
Be the first to comment...